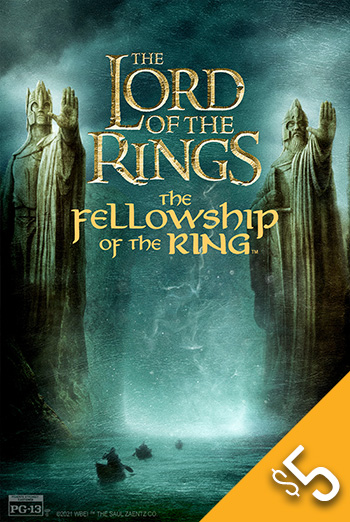 In Theatres Dec 19 2001
Duration 179 mins

Welcome Back, Movie Lovers! This movie is part of our $5 Movie Deal Line-Up. See it in any available format for just $5.00 (tax included) every day and $2.99 on Tuesdays. Limited time only offer.
"One ring to rule them all. One ring to find them. One ring to bring them all and in the darkness bind them." J.R.R. Tolkien The Lord of the Rings. In the first part of J.R.R. Tolkien's epic masterpiece, The Lord of the Rings, a shy young hobbit named Frodo Baggins inherits a simple gold ring. He knows the ring has power, but not that he alone holds the secret to the survival--or enslavement--of the entire world.
Now Frodo, accompanied by a wizard, an elf, a dwarf, two men and three loyal hobbit friends, must become the greatest hero the world has ever known to save the land and the people he loves. Winner of four Academy Awards: Best Cinematography, Best Original Score, Best Visual Effects, Best Makeup. Nominated for 13 Academy Awards; the most nominations for any film in 2001 including: Best Picture Best Director (Peter Jackson); Actor in a Supporting Role (Ian McKellen); Adapted Screenplay; Film Editing; Art Direction; Costume Design; Original Song; Sound.