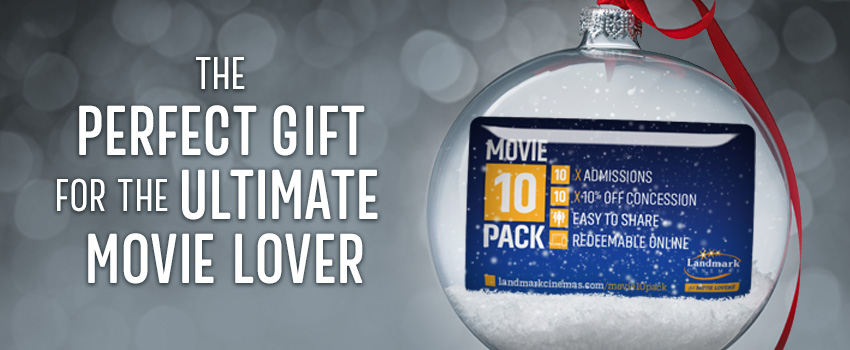 Movie 10-Pack
'Tis the season to gift the ultimate Movie Lover with our Movie 10-Pack card.
It's the rewarding, never expiring, card that gets you:
      • 10 x Admissions
      • 10 x 10% Off Concession
      • Easy to Share
      • Redeemable In-Theatre or at LandmarkCinemas.com
Plus, with every Movie 10-Pack purchase, now through December 31st, receive a $30+ Movie Savings Coupon Book. To learn more about this offer, CLICK HERE.
Available now at our Box Office and Concession. Check your favourite Landmark Cinemas' location for pricing.
†TERMS AND CONDITIONS: Discount is calculated against the base admission price of general admission ticket. Prices vary by market. Applicable taxes extra. Surcharges for RealD 3D, EXTRA, XTREME, and IMAX apply. Enjoy 10 transactions of 10% off at concession. Butter, upsizes, and add-ons at additional cost to guest. Additional restrictions may apply. Subject to change and/or cancellation without notice pursuant to studio terms and conditions.
Frequently Asked Questions (FAQ)
What is the price of the Movie 10-Pack?
You can find your location's Movie 10-Pack price by visiting us in-theatre or by going to our Showtimes page and selecting the Admission Prices & Features tab.
Where can I purchase the Movie 10-Pack?
In-theatre at our Box Office or Concession.
How do I check the balance on my Movie 10-Pack? 
Our cast and crew, in-theatre, are more than happy to assist in checking your card admission and concession balance. You can request a balance check at our Box Office or Concession.
To check your admission balance online, simply enter your Movie 10-Pack code in Step 1 of our Online Ticketing process. 
1. Enter your Movie 10-Pack code in the Voucher/Promo code box
2. Select APPLY
3. The remaining amount of Movie 10-Pack admissions will be displayed
Can I re-load a Movie 10-Pack? 
Our Movie 10-Packs are not reloadable, at this time. A new Movie 10-Pack can be purchased in-theatre at our Box Office or Concession.
Can my Movie 10-Pack be used when a movie is pass restricted?
Yes - Your Movie 10-Pack is not a pass and can be used for the latest and greatest movies.
Can my Movie 10-Pack be used for special presentations and events?
No - the Movie 10-Pack cannot be used for special presentations including, but not limited to, MET Opera, Movie Marathons, and Fan Events.
Can I use my Movie 10-Pack for premium movie experiences (REALD 3D, LASER ULTRA, XTREME, EXTRA, IMAX®)? 
Yes - Just note that a surcharge will be applied, per ticket, for the premium format ($2-5 per ticket depending on format selected).
Does the Movie 10-Pack card expire? 
Nope - never.
Applicable Locations