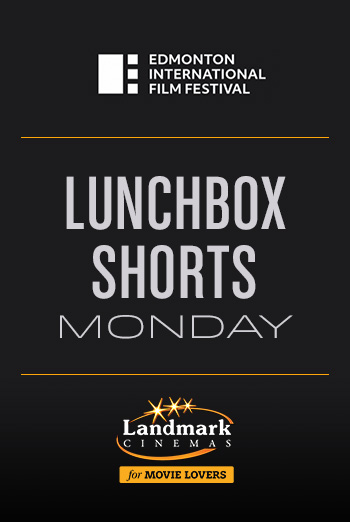 LUNCHBOX Shorts-Monday (EIFF)
Monday to Friday during the festival (Oct. 1-5), EIFF presents five (5) unique short film packages curated from thousands of films submitted to the festival this year.  Each short film programme begins at 12:10pm and runs approx. 45-mins. in length, giving you just enough time to get back to your desk!  Admission is $15 and includes LUNCH.
Today's LUNCHBOX SHORTS package includes these films…
THE HOOPOE AND THE OWLS
Director: Narges Haghighat | 4-mins. | Islamic Republic of Iran | 2017| Animation
The Hoopoe and the Owls is an adaptation of an old Iranian story about a hoopoe who goes along with what a group of owls say in order to survive.
LANGUAGE: English
THE AVOCADO
Director: Darwin Serink | 11-mins. | Edmonton | 2018 | Drama
After several unsuccessful attempts, Raul finally gets the courage to ask his co-worker, Rosa, out on a date. To his surprise, she says yes, but when the anticipated day arrives, Raul is met with an unforeseen event that changes his life forever.
LANGUAGE: English
TWO PUDDLES
Director: Timothy Keeling | 6-mins. | UK | 2018 | Drama
When a family encounter two radically unusual puddles on a woodland retreat, unspoken tensions finally surface.
LANGUAGE: English, Swedish
SACRED HAIR
Director: Mario Morin | 13-mins. | Canada/Montreal | 2017 | Drama
A fortuitous life changing encounter between a young ill boy and a Muslim woman in a Montreal park.
LANGUAGE: English, French
ONE CAMBODIAN FAMILY PLEASE FOR MY PLEASURE
Director: Anna Martemucci | 14-mins. | USA | 2018 | Drama
Fargo, North Dakota, 1981: Hanka, a profoundly lonely refugee from Czechoslovakia, types a letter that paints an all-too-appealing picture of her life in the freezing landscape of North Dakota as she begs an organization to send a Cambodian refugee family so that she may help to resettle them in the "dreamland" that is midwestern Reagan-era America.
LANGUAGE: English
Starring: TBC
Directed by: Various
In Theatres:Oct 01, 2018
Genre: Miscellaneous
Duration: 45 min
Showtimes & Movie Tickets
Movies and showtimes are updated for online ticket purchase each Wednesday morning for the upcoming week (Friday to Thursday).