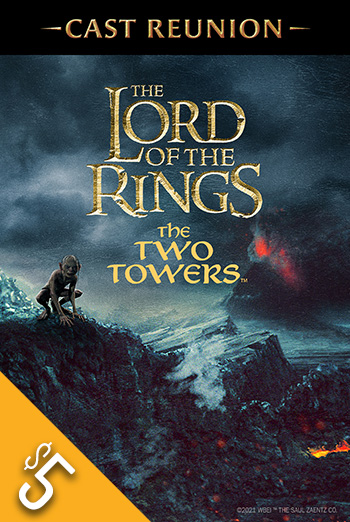 In Theatres Apr 08 2021
Duration 179 mins

Welcome Back, Movie Lovers! This movie is part of our $5 Movie Deal Line-Up. Limited time only offer.
To honour the twentieth anniversary of THE LORD OF THE RINGS Trilogy and the release of a gorgeous 4K remastering overseen by Peter Jackson, Middle-earth's finest are reuniting for THE LORD OF THE RINGS Cast Reunion – three exclusive special post-screening conversations hosted by noted Ring-Nut and host of The Late Show on CBS, Stephen Colbert. Joining Colbert will be Cate Blanchett, Orlando Bloom, Liv Tyler and Viggo Mortensen.
In the second part of the Tolkien trilogy, Frodo Baggins and the other members of the Fellowship continue on their sacred quest to destroy the One Ring--but on separate paths. Their destinies lie at two towers--Orthanc Tower in Isengard, where the corrupt wizard Saruman awaits, and Sauron's fortress at Barad-dur, deep within the dark lands of Mordor.