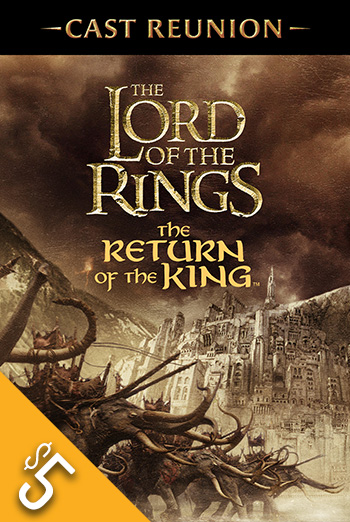 In Theatres Apr 22 2021
Duration 201 mins

Welcome Back, Movie Lovers! This movie is part of our $5 Movie Deal Line-Up. Limited time only offer.
To honour the twentieth anniversary of THE LORD OF THE RINGS Trilogy and the release of a gorgeous 4K remastering overseen by Peter Jackson, Middle-earth's finest are reuniting for THE LORD OF THE RINGS Cast Reunion – three exclusive special post-screening conversations hosted by noted Ring-Nut and host of The Late Show on CBS, Stephen Colbert. Joining Colbert will be Andy Serkis, Ian McKellen and Peter Jackson.
In the conclusion of J.R.R. Tolkien's epic masterpiece, The Lord of the Rings, as armies mass for a final battle that will decide the fate of the world--and powerful, ancient forces of Light and Dark compete to determine the outcome--one member of the Fellowship of the Ring is revealed as the noble heir to the throne of the Kings of Men. Yet, the sole hope for triumph over evil lies with a brave hobbit, Frodo, who, accompanied only by his loyal friend Sam and the hideous, wretched Gollum, ventures deep into the very dark heart of Mordor on his seemingly impossible quest to destroy the Ring of Power.