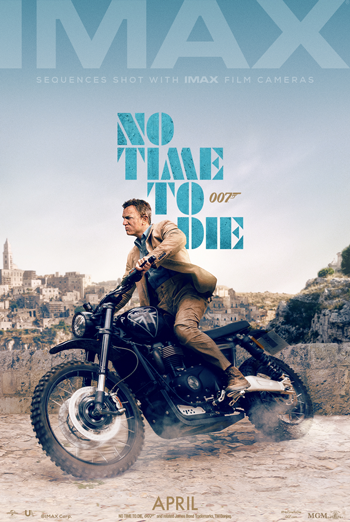 In Theatres Oct 08 2021
Duration 163 mins

NOTICE: Universal has rescheduled this film to November 25, 2020. Tickets purchased at landmarkcinemas.com with credit or debit cards will automatically receive a refund to the method of payment used for this transaction. If you used a COSTCO voucher, Movie 10-Pack card, Calgary Co-op, AMA, or any Corporate Sales product to purchase your tickets we will contact you directly by email to issue replacement vouchers. If you used a Landmark Cinemas Gift Card we will contact you directly by email to complete the refund. Ticket(s) purchased at a Landmark Cinemas theatre box office or Kiosk (ABO) may only be refunded at the theatre to the original payment method. Please allow a minimum of two (2) weeks for the processing of your refund. If you have additional questions please contact [email protected] and you will receive a response to your inquiry within 48HRS. Thank you.
In No Time To Die, Bond has left active service and is enjoying a tranquil life in Jamaica. His peace is short-lived when his old CIA friend Felix Leiter turns up asking for help. The mission to rescue a kidnapped scientist turns out to be far more treacherous than expected, leading Bond onto the trail of a mysterious villain armed with dangerous new technology.