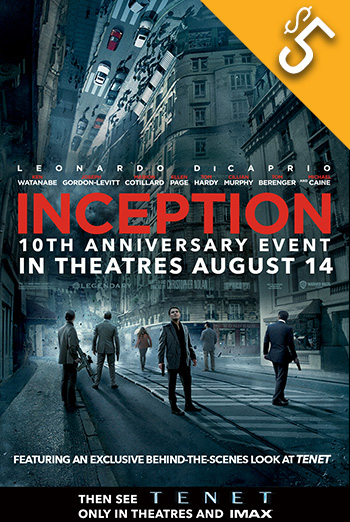 In Theatres Aug 14 2020
Duration 162 mins

Welcome Back, Movie Lovers! This movie is part of our $5 Movie Deal Line-Up. See it in any available format for just $5.00 (tax included) every day and $2.99 on Tuesdays. Limited time only offer.
This summer, your mind is again the scene of the crime. In 2010, acclaimed filmmaker Christopher Nolan took moviegoers into the intimate and infinite world of dreams in the Oscar-winning sci-fi actioner "Inception." "Inception" stars Leonardo DiCaprio as Dom Cobb, and also stars Ken Watanabe, Joseph Gordon-Levitt, Marion Cotillard, Ellen Page, Tom Hardy, Cillian Murphy, Tom Berenger, Dileep Rao, and Michael Caine.
Now, in celebration of the 10th anniversary of this groundbreaking film, we are re-releasing "Inception" in theatres, with a bonus of exclusive behind-the-scenes footage from Nolan's much-anticipated film, "Tenet."