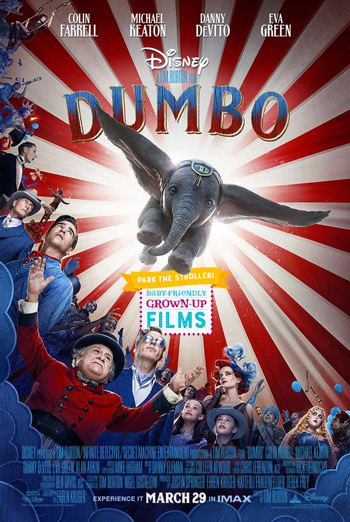 In Theatres Apr 02 2019
Duration 112 mins

For "Grown-Up" Movie Lovers who want to get their fix of the latest blockbusters or indie films in a baby-friendly environment. Mark your calendar because this program returns every Tuesday, at Tuesday pricing!
From Disney and visionary director Tim Burton, the all-new grand live-action adventure "Dumbo" expands on the beloved classic story where differences are celebrated, family is cherished and dreams take flight. Circus owner Max Medici enlists former star Holt Farrier and his children to care for a newborn elephant whose oversized ears make him a laughingstock in an already struggling circus. But when they discover that Dumbo can fly, the circus makes an incredible comeback, attracting persuasive entrepreneur V.A. Vandevere, who recruits the peculiar pachyderm for his newest, larger-than-life entertainment venture, Dreamland.