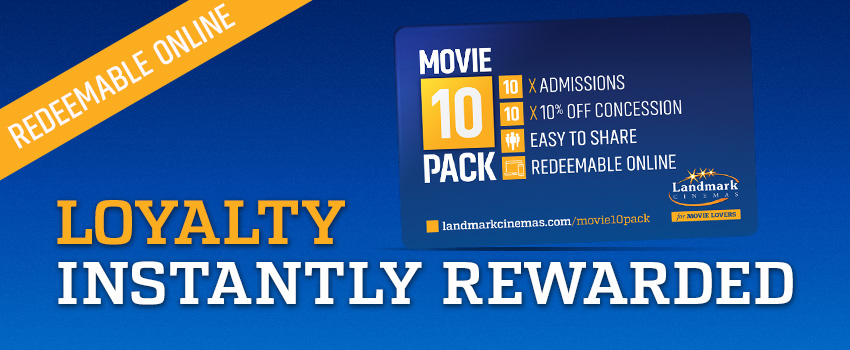 Movie 10-Pack
The Movie 10-Pack card instantly makes every Movie Lover's movie-going experience more rewarding. Loaded with 10 General Admission tickets and 10% off TEN purchases at concession, this card is easy to share with family and friends. PLUS, you can now redeem your admissions online! Not to mention, the card never expires!
Get rewarded for your loyalty instantly with the Movie 10-Pack. Available now at our Box Office and Concession. Check your favourite Landmark Cinemas for pricing.
TERMS AND CONDITIONS: Discount is calculated against the base admission price of general admission ticket. Prices vary by market. Applicable taxes extra. Surcharges for RealD 3D, EXTRA, XTREME, and IMAX apply. Enjoy 10 transactions of 10% off at concession. Butter, upsizes, and add-ons at additional cost to guest. Additional restrictions may apply. Subject to change and/or cancellation without notice pursuant to studio terms and conditions.
Applicable Locations