Alcohol Service

Beer & Cider | Wine | Ready-to-Drink Cocktails
Enjoy beer, cider, wine and spirits with Every Movie in Every Auditorium with your go-to movie snack.
BEER & CIDER
A selection of the leading domestic, premium domestic and imported beers and ciders.

Selection varies by location.
WINE
Enjoy one of these popular wine selections.

Selection varies by location.
READY-TO-DRINK COOLERS & COCKTAILS
We also offer a wide variety of ready-to-drink coolers and mixed beverages.

Selection varies by location.
FOOD (and DRINK) DELIVERY
You can now enjoy your favourite movie popcorn, treats and drinks at home, available through DoorDash, Skip The Dishes and Uber Eats! Have your order delivered to your home or office, or pick it up yourself, in-theatre. Visit our Food Delivery page for more details.

LOBBY BARS
Stop by the Lobby Bar in our Kanata and Whitby locations to grab a drink—including wine selections by-the-glass—before or after your movie, where you'll find select snacks and complimentary games such as Connect Four, Jenga, cards and more.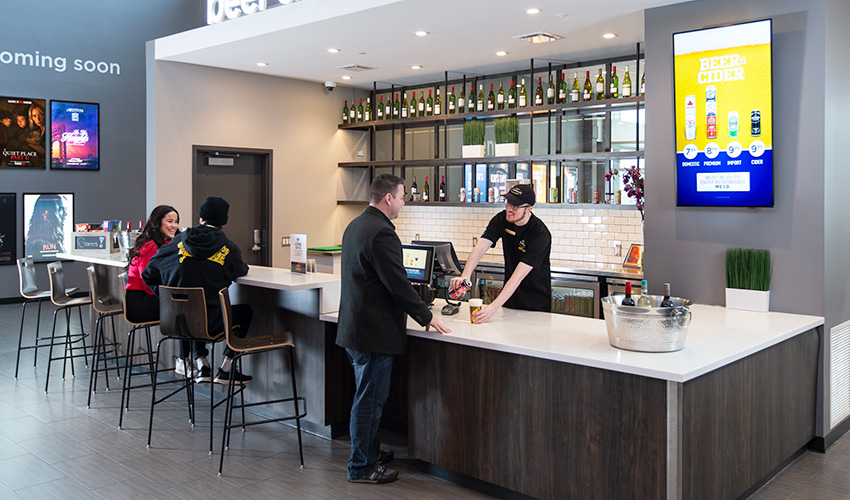 Enjoy featured wines by-the-glass, such as:
• Wayne Gretzky Baco Noir
• Jacob's Creek Shiraz
• Beringer Main & Vine Cabernet Sauvignon
• Brancott Estate Marlborough Sauvignon Blanc
• Cavaliere D'Oro Gabbiano Pinot Grigio
• and more
*Alcohol possession or consumption is prohibited on Landmark Cinemas property, unless alcohol is available and has been purchased on said premises. Guests must be of legal drinking age. We I.D. Acceptable forms of PHOTO I.D. must be government-issued, valid and include a birth date. Two drink limit per visit. We will not serve anyone who appears intoxicated.
Applicable Locations