Welcome Back Movie Lovers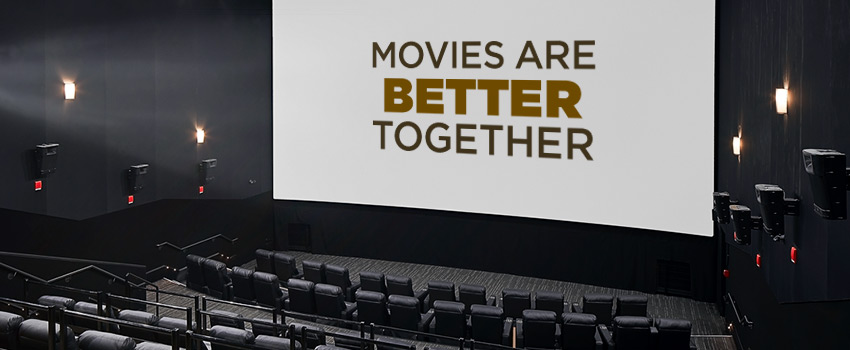 We've been preparing to welcome you back—and now that it's showtime, we wanted to give you a sneak peek at what you should expect when you catch a movie at Landmark Cinemas. For a list of opening locations, CLICK HERE.
PREVIEW YOUR LANDMARK MOVIE-GOING EXPERIENCE OR READ BELOW
RESPECT THE WELL-BEING OF YOUR COMMUNITY AND YOUR FELLOW MOVIE LOVERS
Health and Safety:
Every Landmark Cast and Crew member will be wearing proper protective equipment as physical distancing might not always be possible.
FACE COVERINGS
In compliance with local health regulations and/or by-laws, it is mandatory to wear a non-medical face covering over your nose, mouth and chin while you are on the premises at the following locations. You may remove your face covering to enjoy your concessions when seated in your auditorium.
BC
Calgary
Edmonton
Fort McMurray
Ontario
Regina
St. Albert
Saskatoon
Spruce Grove
For other regions: in accordance with health guidelines, masks are strongly recommended.
---
CONTACT TRACING
As per Provincial requirements, Landmark has implemented Contact Tracing measures at the following locations. To ensure a safe and physically-distanced movie-going experience, we encourage all guests to purchase their tickets and reserve their seats for free at landmarkcinemas.com or on the Atom Ticketing app.
BC
Alberta
Kingston, ON
London, ON
Saskatchewan
---
TEMPORARY CLOSURES
The following locations have been temporarily closed:
BC
Landmark Cinemas Campbell River
Landmark Cinemas Courtenay
Landmark Cinemas Cranbrook
Landmark Cinemas Dawson Creek
Landmark Cinemas Encore West, Kelowna
Landmark Cinemas Fort St John
Landmark Cinemas Grand 10, Kelowna
Landmark Cinemas Nanaimo
Landmark Cinemas New Westminster
Landmark Cinemas Penticton
Landmark Cinemas Port Alberni
Landmark Cinemas Surrey, Guildford
Landmark Cinemas Xtreme, West Kelowna
 ALBERTA
Landmark Cinemas Airdrie
Landmark Cinemas Brooks
Landmark Cinemas Country Hills
Landmark Cinemas Drayton Valley
Landmark Cinemas Edmonton City Centre
Landmark Cinemas Edson
Landmark Cinemas Fort McMurray
Landmark Cinemas Market Mall
Landmark Cinemas St. Albert
Landmark Cinemas Shawnessy
Landmark Cinemas Spruce Grove
Landmark Cinemas Sylvan Lake
Landmark Cinemas Tamarack
 SASKATCHEWAN
 MANITOBA
Landmark Cinemas Brandon
Landmark Cinemas Grant Park Winnipeg
Landmark Cinemas Selkirk
Landmark Cinemas Towne Winnipeg
Landmark Cinemas Winkler
 ONTARIO
Landmark Cinemas Bolton
Landmark Cinemas Hamilton
Landmark Cinemas Kanata
Landmark Cinemas Kingston
Landmark Cinemas Kitchener
Landmark Cinemas London
Landmark Cinemas Orléans
Landmark Cinemas St Catharines
Landmark Cinemas Waterloo
Landmark Cinemas Whitby
 YUKON
Landmark Cinemas Yukon
Landmark Cinemas Qwanlin
---
Please stay home:
if you or anyone you have been in contact with, have COVID-19
if you show any symptoms of illness such as fever, chills, shortness of breath or cough

MOVIE TICKETS
We encourage Guests to purchase their movie tickets in advance at landmarkcinemas.com or with the ATOM app. Tickets may also be purchased at the theatre using a purposefully-distanced automated box office kiosk with touchscreens that are covered with an antimicrobial copper film to provide enhanced cleanliness.
We encourage in-theatre ticket and concession purchases using Contactless payment methods (credit/debit, mobile payments, gift cards and vouchers).
Please note that we have maintained Free Reserved Seating, and introduced Free Reserved Seating in select locations.
PLAN YOUR ARRIVAL
To achieve the recommended physical distancing for our Guests, we ask that you arrive no sooner than 20 minutes (15 minutes in Ontario) prior to your movie's scheduled showtime.
If you arrive earlier, you may be asked to remain outside the theatre until your movie is ready for seating.
AT THE THEATRE—PHYSICAL DISTANCE AND HYGIENE
Please follow all directional and physical distancing signs, and the guidance of our Cast and Crew members as you move from the front doors, to concession, to your movie, and finally when you exit the theatre following your movie.
Throughout the theatre, we have installed protective safety shields at interaction points to safeguard both our Guests and our Crew members.
We have temporarily removed lobby seating for added Guest safety.
Hand sanitizer will be available throughout your theatre experience including at the entries, concessions, washrooms and the entrance to each theatre corridor.
IN-THEATRE SEATING AND MOVIE SCHEDULES
To ensure physical distancing and provide a safe and enjoyable movie-going experience, we have made the following changes:
Reduced the capacity of all theatres by over 50% in recliner locations and 75% in traditional seating locations. Theatre capacity will vary to adhere to provincial and municipal occupancy guidelines.

Recliner seating locations will have alternating loveseats, blocked off and checkerboard pattern in front and behind each Guest.
Traditional seating locations will have three seats between each pair of seats and alternating rows blocked off.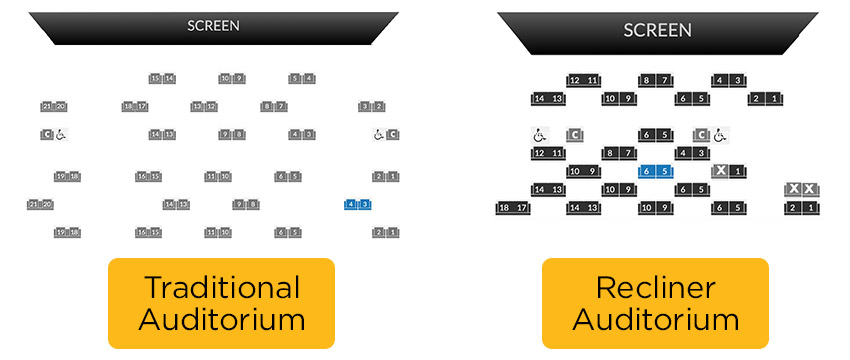 To comply with ALBERTA health regulations, our auditorium occupancy will be reduced to 25%.
To comply with MANITOBA health regulations, our auditorium occupancy will be reduced to 30%.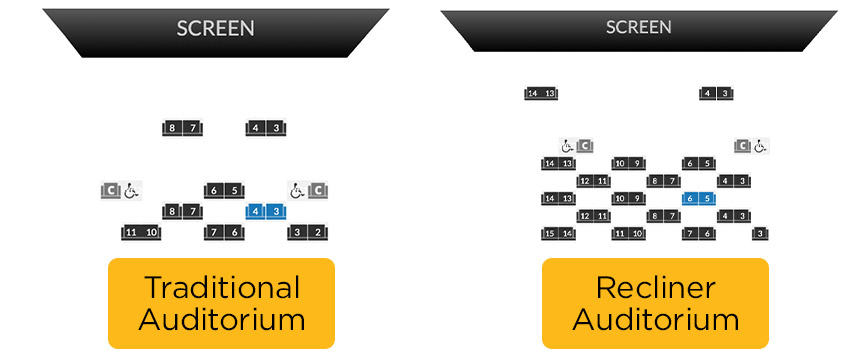 To comply with SASKATCHEWAN health regulations, our occupancy is capped at 30 guests per auditorium.
ADDITIONAL MEASURES
Maintained Reserved Seating, and introduced Reserved Seating in select locations, to ensure Guests can select their preferred seat location.
Reduced the number of showtimes, and increased the time between each showtime to eliminate congestion in the lobby and auditorium.

Seating is configured in pairs. To respect physical distancing, if a single seat is marked with an X—indicating that this seat has been sold—and the accompanying seat is still available, please do not purchase this seat.

FAMILY/COHORT SEATING
Family members of the same household, and cohorts as permitted by Provincial health authorities, may seat themselves within the block of adjoining seats. As seating is configured in pairs, for additional seats simply purchase the next available seat within the next pair. If a single seat is marked with an X—indicating that this seat has been sold— you will not be allowed to purchase this seat. When the movie starts, you may join your party, respecting physical distancing from your fellow Guests.
When your movie is over, we ask that you follow the instructions of the Landmark Cast member or all directional signage and exit by row to ensure proper physical distancing.
Alternative exit paths will be used wherever possible to minimize overlap with arriving Guests.
OUR CAST AND CREW
Our Fit for Work policy requires that each Cast member complete a health questionnaire to confirm they have not been exposed to anyone with COVID-19, and are symptom-free before they enter the theatre and start their shift.
Every Landmark Cast and Crew member will always be wearing proper protective equipment. PPE will be supplied by Landmark for its Cast and Crew members.
Every Landmark Cast and Crew member will be required to wash their hands every 30 minutes.
ENHANCED CLEANING
As an enhanced cleaning practice, we will be disinfecting our auditoriums, seating surfaces, washrooms and common areas with an odorless and 100% biodegradable cleaning product which has been proven to kill 99.9999% of bacteria and has been approved by Health Canada and the EPA for use against SARS-CoV-2, the Coronavirus that causes COVID-19.
Landmark will have a dedicated Hygiene Officer scheduled on each shift, with the sole responsibility of ensuring that cleaning and safety standards are completed as scheduled and to specification.
There will be extra time provided between movies to complete our enhanced cleaning standards. Only after the Manager on Duty or Hygiene Officer has inspected—and signed-off on the cleaning of the auditorium—will it be released to seat our next Guests.
We have deployed additional cleaning Crew members who are dedicated to enhanced cleaning of high-contact areas throughout the theatre every 30 minutes.
CONCESSIONS
We have reduced our menu in select locations to expedite your order and reduce lobby times.
We have created queue lines—and markers within each line—to ensure proper physical distancing.
Some items may not be available for self-serve, and a Cast member will be happy to serve you.
Our concession Crew members will hand-sanitize and wipe down their service area prior to serving each Guest.
We have installed protective safety shields to safeguard both our Guests and our Cast members.
Please stand behind the queue line indicated, until you are called, to allow for our Crew member to clean the service area. Exit to your theatre following the directional signage provided.
DRINKS

Self-serve beverage locations (Coca-Cola Freestyle) will be adapted by location to ensure that we are providing recommended physical distancing and a hygienic experience.
Crew-serve beverage service is unchanged with the exception that straws will be provided by your Crew member.
As per Provincial requirements, alcoholic beverages cannot be purchased after 11:00 p.m.

CANDY

Need your favourite candy? Please let the Crew member serving you know what you would like, and they will be happy to get it for you.
WASHROOMS
All sinks and stalls are available. Alternate urinals will be closed to provide physical distancing.
Please always respect others and maintain physical distancing when entering, occupying, and exiting the restrooms.
LEAVING THE THEATRE
To maintain physical distancing when exiting the theatre, we ask:
When your movie is over, please follow the instructions of the Landmark Cast member or all directional signage and exit by row, starting at the front.
After you exit the auditorium, additional directional signage will assist you to exit the theatre.
Where possible you will be directed through an alternative exit path that does not require you to travel back through the lobby area.
As you exit the theatre please be kind - deposit your own garbage in the appropriate bins. Our Cast and Crew will truly appreciate your assistance in keeping our theatres clean for all Movie Lovers.
PLEASE HELP EVERYONE ENJOY THEIR MOVIE

PRACTISE PHYSICAL DISTANCING: Keep at least 2 metres (6 feet) from others.
WASH YOUR HANDS OFTEN: Wash for at least 20 seconds. If soap and water aren't available, use an alcohol-based hand sanitizer.
COUGHING/SNEEZING: Cough and sneeze into your elbow, NOT your hands. Throw any tissues you may use directly into the trash.
WEARING A MASK: Face coverings are mandatory for all Guests in our BC, Ontario, Manitoba, Airdrie, Calgary, Spruce Grove, Fort McMurray, St. Albert, Regina and Saskatoon locations. For other regions, masks are recommended in accordance with health guidelines. Avoid touching your eyes, nose and mouth.
MOVIES ARE BETTER TOGETHER
We have implemented recommended hygiene and physical distancing protocols throughout our theatre and in each auditorium, but we cannot guarantee your physical health. We ask that you do your part by observing all recommended hygiene and physical distancing guidelines during your visit, and ask that you let us know if there is is anything we can do to improve your experience.
OPERATING HOURS
Landmark Cinemas' operating hours and closures vary by location. Check your local Landmark for showtimes at landmarkcinemas.com