Welcome Back, Movie Lovers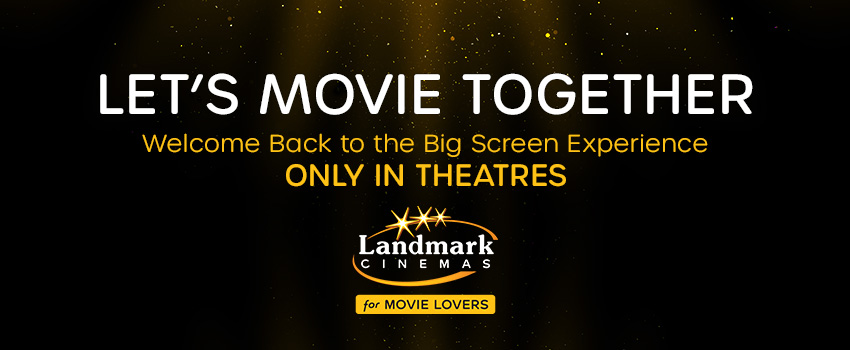 IT'S MOVIE TIME!
FOR YOUR MOVIE ENJOYMENT
Landmark Cinemas adheres to all legislated health requirements in the operation of its theatres.
Purchase your tickets in advance
Please note, recliner seating is configured in pairs. If a single seat is marked with an X, this seat has been sold and the accompanying seat could be purchased by another Guest. We recommend purchasing the next available combination of loveseat(s) that accommodates your party size.
Arrive 30 minutes prior to your showtime.
We encourage concession purchases using contactless payment methods (credit/debit, mobile payments, gift cards and vouchers).
Enjoy your movie!
---
OUR CAST AND CREW
Our Fit for Work policy requires that each Cast is symptom-free before they enter the theatre and start their shift.
Every Landmark Cast and Crew member will be required to wash their hands every 30 minutes.
---
REFUNDS
Guest may refund their tickets at the theatre of purchase at least 30 mins before their movie's posted showtime, or click landmarkcinemas.com/how-can-we-help/ to submit their request. Complete the form by selecting comment type: Online Ticketing and comment type issue: Ticket Refunds to send a request directly to the theatre.
Refunds take approximately 10 business days to process. Any passes, vouchers or Movie 10-Pack cards will be reactivated once the theatre releases the seats.
Due to the overwhelming volume of enquiries regarding ticket refunds, exchanges, or billing issues due to changing government regulations affecting theatre capacity, we may not be able to answer, or promptly return your call or email. For resolution of your issue, we ask that you visit landmarkcinemas.com, select How Can We Help located on the Contact Us page, and select the relevant topic from the menu. Alternatively, you may email us at [email protected]. We apologize in advance for any inconvenience and appreciate your patience as we work toward providing a safe and enjoyable moviegoing experience for our Guests and our employees. For more information regarding our Refund Policies please visit our FAQs at landmarkcinemas.com/faq
---
FACE COVERINGS
Our Cast and Crew are no longer required to wear protective face masks. Please respect the choice of those who may decide to wear a non-medical face mask to enjoy their movie-going experience.
---
DISTANCE SEATING SHOWTIMES
In select locations, on Mondays at select showtimes before 6:00 pm, we offer Distance Seating screenings featuring reduced theatre capacity and physically-distanced seating. Applicable showtimes will include a DISTANCE SEATING icon next to the film title.

---
ALBERTA, BRITISH COLUMBIA, MANITOBA, ONTARIO & SASKATCHEWAN
We follow all government health guidance/vaccination checks and the use of a non-medical face-covering are not required.
---
PLEASE STAY HOME IF:
you or anyone you have been in contact with, have COVID-19
you show any symptoms of illness such as fever, chills, shortness of breath or cough

---
ENHANCED CLEANING
As an enhanced cleaning practice, we disinfect our auditoriums, seating surfaces, washrooms, and common areas with an odorless and 100% biodegradable cleaning product which has been proven to kill 99.9999% of bacteria and has been approved by Health Canada and the EPA for use against SARS-CoV-2.
We have deployed additional cleaning Crew members who are dedicated to enhanced cleaning of high-contact areas throughout the theatre every 60 minutes.
---
LEAVING THE THEATRE
As you exit the theatre, please be kind and deposit your garbage in the appropriate bins. Our Cast and Crew will truly appreciate your assistance in keeping our theatres clean for all Movie Lovers.
---
PLEASE HELP EVERYONE ENJOY THEIR MOVIE

WASH YOUR HANDS OFTEN: Wash for at least 20 seconds. If soap and water aren't available, use an alcohol-based hand sanitizer.
COUGHING/SNEEZING: Cough and sneeze into your elbow, NOT your hands. Throw any tissues you may use directly into the trash.
---
OPERATING HOURS
Landmark Cinemas' operating hours and closures vary by location. Check your local Landmark for showtimes at landmarkcinemas.com