Stephen Frears praises Eddie Izzard's performance in Victoria and Abdul
Stephen Frears didn't know what to expect from Eddie Izzard in 'Victoria & Abdul'.
The 76-year-old filmmaker has helmed the true story about the relationship between Queen Victoria and her Indian servant Abdul Karim, but Frears admitted Izzard - who plays Edward VII - wasn't his idea to cast.
Speaking to Den of Geek, the filmmaker said:
"Eddie's great, I don't know where that came from. It wasn't my idea, somebody else suggested him. 'Oh, all right'. I don't think I knew quite what to expect, and he was brilliant."
Izzard is best known for his comic work but Frears admitted he likes the fact that his character is "the least comic character" in the film and revealed the comedian performed a gig for the cast while filming on the Isle of Wight.
He said: "I like the fact that he's the least comic character in the film. He's such a funny man, so funny on stage. It's interesting, because I was just talking to him before I came I here, and he was saying that his aim is to be. He wanted to be a serious actor. He's gone catastrophically wrong. I think he's a genius as a comic.
"He did it one night for us in the Isle of Wight and he was just brilliant."
The film stars an impressive cast including newcomer Ali Fazal and Dame Judi Dench - who has worked with Frears in five movies - and was described as the filmmaker as being a "doddle to direct".
He said: "She's such a powerful actress. She's a doddle to direct. She's so clear, and has such a strong sense of narrative.
"Her qualities as a human being that's so affecting. She's so interesting and such a brilliant actress."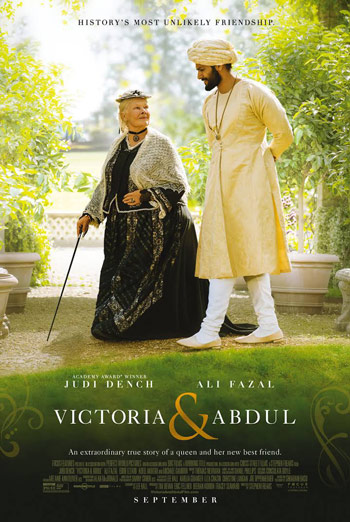 111 min | Biography
When Abdul Karim travels from India to participate in the Queen's Golden Jubilee, he is surprised to find favour with the Queen herself. As the Queen questions the constrictions of her long-held position, the two forge an unlikely and devoted alliance with a loyalty to one another that her household and inner circle all attempt to destroy. ...
get tickets
watch trailer