Ryan Reynolds offers his congratulations to The Avengers
Ryan Reynolds has congratulated Marvel's superheroes on the success of 'Avengers: Infinity War'.
The 41-year-old actor - who stars as Deadpool in the Marvel Universe - has taken to his Twitter account to praise his fellow superheroes, who include the likes of Iron Man (Robert Downey Jr), Thor (Chris Hemsworth) and Captain America (Chris Evans).
Underneath a letter from Iron Man to Deadpool, in which his offer to join The Avengers is rejected, Ryan wrote: "From a guy who never knows when to quit, I'm glad you guys never did. Congrats #Avengers. (sic)"
The letter itself reads: "Re: Joining the Avengers. No. Absolutely not. Go bother Prof. X. No. Sincerely, Tony Stark. (sic)"
Ryan's eagerly awaited 'Deadpool' sequel is set to premiere in May.
And the Canadian star - who first played the role in 2009's 'X-Men Origins: Wolverine' - is particularly passionate about the project, having spent years trying to secure a standalone movie for the character.
Reflecting on the experience of making the original 'Deadpool' movie, Ryan previously shared: "Making the movie was very, very difficult. It was the most passionate group of individuals I've ever worked with in my life.
"And for whatever reason, that mercurial crazy burgoo of people is what made this thing work so well, not just because I had this vision and I saw it this way and it had to be this way. It worked because we all had that feeling.
"But there were vaguely scary fights in the post-production process that escalated quickly. Luckily, everybody's grown up and at the end of the day enjoys and loves each other."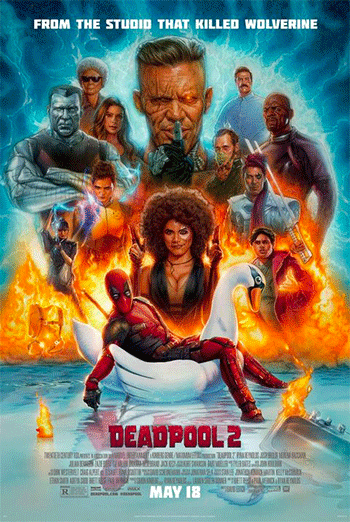 119 min | Action
Wade must battle ninjas, the yakuza, and a pack of sexually aggressive canines, as he journeys around the world to discover the importance of family, friendship, and flavour... ...
watch trailer