Pitch Perfect 3 'ties up' all the plot lines in the franchise
The comedy movie's director Trish Sie, believes the upcoming film, which stars Anna Kendrick, Rebel Wilson and Brittany Snow, has brought together all storylines in the previous two releases, as it sees the acapella group - known as The Barden Bellas - reunite to perform on a European tour for the last time, and she has hinted it will be the end to the trilogy.
The creative mastermind said: "We certainly wanted to tie up this stage of the franchise, in the sense that the Bellas have graduated college, they have gone through the treacherous time of transitioning to the real work and they are setting out on new adventures."
And Brittany - who portrays Chloe Beale in the production - has hailed the filmmaker as a "powerhouse" because she has been able to work with a large group of actresses, but also give them their own freedom to express themselves.
The 31-year-old actress said: "Trish is a powerhouse. There are so many people that could take on a task this large, with 10 girls, all different types of personalities, and a lot of expectations, and still maintain her own take. But she let us do whatever we wanted. We improvised maybe 80 per cent of the movie."
Although Sie has hinted the forthcoming release will be the last movie in the 'Pitch Perfect' series, if she was to create a follow-up Brittany would jump at the chance because she "loves" the movie and her cast mates, who have become a "family".
She told Total Film magazine: "We have decided that if someone asks us to do it again, we will. We love doing these movies. It's so cheesy, but we've become this family."
'Pitch Perfect 3' is set to hit the big screens next month.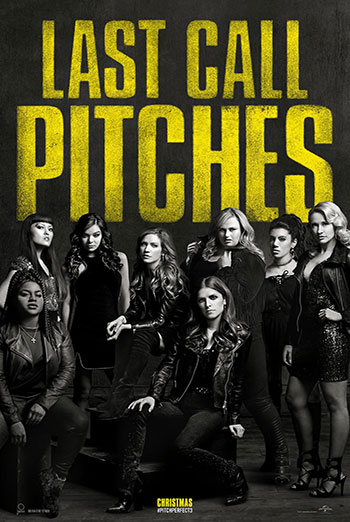 93 min | Comedy
After the highs of winning the World Championships, the Bellas find themselves split apart and discovering there aren't job prospects for making music with your mouth. But when they get the chance to reunite for an overseas USO tour, this group of awesome nerds will come together to make some music, and some questionable decisions, one last time. ...
get tickets
watch trailer