Mel Gibson says thermostat scene sums up comic magic of Daddy's Home 2
Mel Gibson and John Lithgow both loved the thermostat scene in 'Daddy's Home 2'.
The Hollywood legend stars Kurt Mayron the father of Mark Wahlberg's Dusty in the new Christmas comedy alongside Lithgow, 72, and Will Ferrell as father and son, Don and Brad Whitaker.
The new film - helmed by Sean Anders - follows father and stepfather Dusty and Brad who join forces to make Christmastime perfect for the kids their jointly raise.
However, when Dusty's old-school, macho dad Kurt and Brad's gentle father Jonah arrive the holidays turn into chaos.
After a sudden change of plans, the four men decide to take the kids to a luxury resort for a getaway which turns into a chaotic adventure but the two screen legends can both agree on which scene was their favorite in the film.
Speaking to BANG Showbiz at the UK premiere of 'Daddy's Home 2' at the Vue Cinema in London's Leicester Square, Lithgow said:
"We all loved the thermostat scene. It was the perfect piece of dialogue for four actors and anytime oh take something that trivial so seriously it's so funny."
His co-star Gibson also echoed his sentiments and said he enjoyed the "stuff with the thermostats".
The scene sees Kurt demanding to know who touched the thermostat in the log cabin and he first accuses Don (Lithgow).
After denying the claims, Ferrell's character Brad also asks to know who turned it up to "85 degrees".
The three discover it is Dusty's daughter Adrianna (Didi Costine) who say she is allowed to "fiddle with the thermostat" at home.
When Dusty comes into the scene, Don says, 'Oh Dusty, you might as well give her your wallet and your 41k while you're at it," with Brad saying the thermostat is "a sacred covenant. I cannot believe we are even talking about this. It is madness".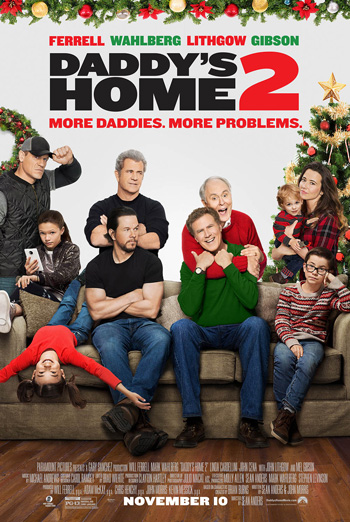 100 min | Comedy
In the sequel to the 2015 global smash, father and stepfather, Dusty and Brad have joined forces to provide their kids with t he perfect Christmas. Their newfound partnership is put to the test when Dusty's old-school, macho Dad and Brad's ultra-affectionate and emotional Dad arrive just in time to throw the holiday into complete chaos. ...
get tickets
watch trailer