La La Land wins big at BAFTAs
'La La Land' was the big winner at the 70th British Academy Film Awards.
The feel good movie musical triumphed at the annual awards ceremony - which took place on Sunday (02.12.17) at the Royal Albert Hall in London - scooping five awards including the Best Film prize.
Emma Stone also took home the Best Actress in a Leading Role award for her part as Mia whilst filmmaker Damien Chazelle won Best Director.
Producer Jordan Horowitz said: "I think film, when at its best, reveals there is more tying us together than tears us apart."
In her acceptance speech for Best Actress, Emma spoke of the importance of "coming together" in a time where the world was so "divisive".
She shared: "This country - and the US, and the world - seems to be going through a bit of a time, just a bit ... In a time that's so divisive I think it's so special we were able to come together tonight thanks to BAFTA, to celebrate the positive gift of creativity and how it can transcend borders and how it can help people to feel a little less alone."
Elsewhere, Casey Affleck picked up the gong for Best Actor in a Leading Role for his part in 'Manchester By The Sea' and Viola Davis' emotional performances in 'Fences' opposite Denzel Washington secured her the Best Actress in a Supporting Role award.
Dev Patel led the way for the British stars in attendance at the event, taking home the Best Actor in a Supporting Role gong for his critically-acclaimed performance in 'Lion'.
Speaking on stage, he said: "Oh my God this is so overwhelming, I sit at home and watch this with my family, who are here with me tonight, and it's such an overwhelming feeling. I love you guys. This is a film about family and a love that transcends borders, race, colours, anything and you guys are my driving force ...
"And to my amazing team, who had the insane task of trying to get this Indian dude, this noodle with wonky teeth and a lazy eye and floppy hair work in this really hard industry. To you guys, you're my hero."
Tom Holland came out on top in the vote for EE Rising Star whilst Mel Brooks took home the biggest prize of the night and was honoured with this year's BAFTA fellowship, which was presented by BAFTA's President Prince William.
Full list of winners at the 70th British Academy Film Awards:
Best Film: 'La La Land'
Best British Film: 'I, Daniel Blake'
Best Director: Damien Chazelle, 'La La Land'
Best Actor: Casey Affleck, 'Manchester by the Sea'
Best Actress: Emma Stone, 'La La Land'
Best Supporting Actor: Dev Patel, 'Lion'
Best Supporting Actress: Viola Davis, 'Fences'
Best Film Not in the English Language: 'Son of Saul'
Best Documentary: '13th'
Best Animated Film: 'Kubo and the Two Strings'
Best Cinematography: Linus Sandgren, 'La La Land'
Best Original Screenplay: Kenneth Lonergan, 'Manchester by the Sea'
Best Adapted Screenplay: Luke Davies, 'Lion'
Best Editing: John Gilbert, 'Hacksaw Ridge'
Best Production Design: Stuart Craig and Anna Pinnock, 'Fantastic Beasts and Where to Find Them'
Best Costume Design: Madeline Fontaine, 'Jackie'
Best Makeup and Hair: J. Roy Helland and Daniel Phillips, 'Florence Foster Jenkins'
Best Sound: Claude La Haye, Bernard Gariépy Strobl and Sylvain Bellemare, 'Arrival'
Best Special Visual Effects: Robert Legato, Dan Lemmon, Andrew R. Jones and Adam Valdez, 'The Jungle Book'
Best British Short Animation: 'A Love Story'
Best British Short Film: 'Home'
The EE Rising Star Award: Tom Holland
Best Original Music: Justin Hurwitz, 'La La Land'
Outstanding Debut by a British Writer, Director or Producer in 2017: 'Under the Shadow', Babak Anvari (writer/director), and Emily Leo, Oliver Roskill and Lucan Toh (producers)
BAFTA Fellowship: Mel Brooks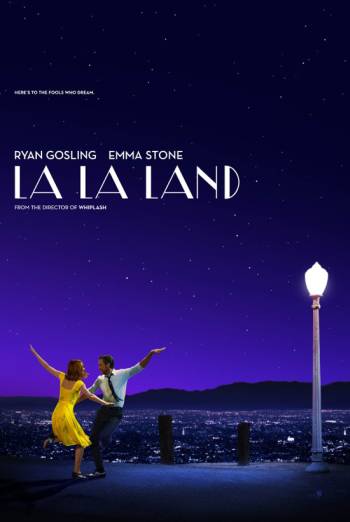 128 min | Musical
Winner of 6 Academy-Awards®. In this modern take on the Hollywood musical from Damien Chazelle, the Academy Award-nominated writer and director of 'Whiplash' , Sebastian (Ryan Gosling) and Mia (Emma Stone) are drawn together by their common desire to do what they love. ...
get tickets
watch trailer