Jack Kesy to star in Deadpool 2
Jack Kesy is reportedly set to star in 'Deadpool 2'.
The 'The Strain' actor is rumoured to appear in the follow-up to the 2016 fantasy film starring Ryan Reynolds, and it is believed Kesy will take on the role of a major villain in the movie, according to Deadline.
Although it has yet to be confirmed what character he will take on, there is growing speculation he could portray the character of Black Tom, who is an Irish mutant and wreaked havoc in the 'X-Men' comics as he had the ability to manipulate energy through plants and nature.
The production will see the return of 'The Proposal' star - who has daughters James, two, and seven-month-old Ines with his wife Blake Lively - who will reprise the titular role as the anti-hero in the hotly anticipated sequel.
Josh Brolin is also on board the project and has been cast as Cable, after he was reportedly handed a four-film deal by Marvel studio bosses, whilst Stefan Kapacic will play the role of Colossus and Brianna Hildebrand as Negasonic Teenage Warhead.
Morena Baccarin will also return portray Reynolds' on-screen love interest Vanessa Carlysle in the upcoming movie, and Leslie Uggams will reprise her role as Blind Al.
When the 73-year-old actress was previously asked if she has a role in the second instalment, Leslie simply replied: "Definitely."
Also recently cast for 'Deadpool 2' was 'Atlanta' star Zazie Beetz, who will play the role of Domino, a mutant who has developed telekinetic powers.
And David Leitch will direct the upcoming film in replace of Tim Miller who helmed last year's movie.
'Deadpool 2' is set to hit the big screens on June 1 next year.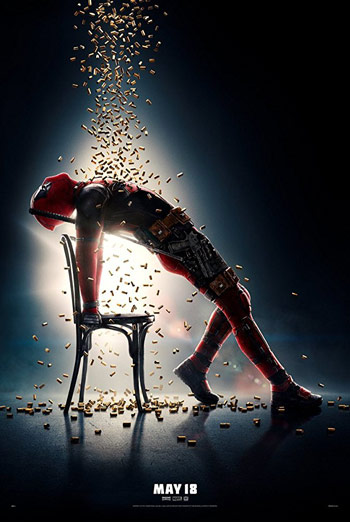 120 min | Action
After surviving a near fatal bovine attack, a disfigured cafeteria chef struggles to fulfill his dream of becoming Mayberry's hottest bartender while also learning to cope with his lost sense of taste. Searching to regain his spice for life, as well as a flux capacitor, Wade must battle ninjas, the yakuza, and a pack of sexually aggressive canines, as he journeys around the world to discover the importance of family, friendship, and flavour - finding a new taste for adventure and earning the coveted coffee mug title of World's Best Lover. ...
get tickets
watch trailer