Dave Franco feared he wouldn't have chemistry with his wife on set
Dave Franco was worried he wouldn't have "chemistry" with his wife Alison Brie on the set of their new movie.
The 32-year-old actor starred alongside his wife on their new comedy film 'The Disaster Artist' and he admits he was a little nervous about doing so because he didn't want there to be no chemistry between him.
He said: "I've been lucky enough to work with Alison a few times this past year. It was a little scary going into the first project, because we were playing love interests in that one as well. In the back of my mind, I was scared that there might not be chemistry between us onscreen, and that would be weird."
However, it was much easier than Dave thought it would be as he feels "so comfortable" with her.
He told InStyle magazine: "But on the contrary, it was so easy to act with her. I feel so comfortable with her, she knows me better than anyone on the planet, and I feel more willing to take risks in front of her, knowing that she's not gonna judge anything that I do. She really does bring out the best in me in my work, too."
Meanwhile, Dave previously revealed he feels it is "finally the right time" to work on a movie with his brother James.
He said: "It was finally the right timing. For the first 10 or so years of my career, I just wanted to do my own thing. I wanted to make a name for myself, and as much as I love him and respect him, I just wanted it to be separate.
"And after a while, it's like, I feel like I'm standing on my own two feet, [so] I was like, 'I don't care what people are going to say [or] if they think I am riding his coattails.' I know that I have been true to myself. We had a really great time, have very similar sensibilities and are hoping to work on a lot more things together."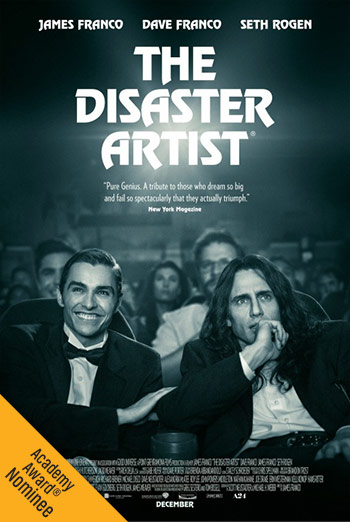 98 min | Comedy
With The Disaster Artist, James Franco transforms the tragicomic true-story of aspiring filmmaker and infamous Hollywood outsider Tommy Wiseau—an artist whose passion was as sincere as his methods were questionable—into a celebration of friendship, artistic expression, and dreams pursued against insurmountable odds. ...
get tickets
watch trailer