Dave Bautista: Drax and Iron Man have 'immediate' chemistry in Avengers 3
Dave Bautista has teased an "immediate" chemistry between Drax The Destroyer and Iron Man in 'Avengers: Infinity War'.
The 48-year-old actor plays Drax in the 'Guardians of the Galaxy' film franchise, and has said that the scenes his character shares with Tony Stark and his heroic alter-ego - played by Robert Downey Jr. - in the upcoming Marvel ensemble movie offer "good chemistry" because the pair were so "comfortable" with each other on set.
When asked how quickly the chemistry between their characters forms, Dave said: "Immediately. Here's the thing is that, I went to the premiere in London of 'Avengers: Age of Ultron', and Robert went out of his way to come and meet me and say how much he loved me in the first ['Guardians'] film. That meant the world to me, so it put me at kind of an automatic comfort level with him, so as soon as we hit the stage man, there was no pressure or walls there, I just felt like, 'This guy is very supportive of me.' I think that's just him, he's a very giving actor across the board. But for me personally, I just felt totally at ease with him, and it makes for good chemistry when you're comfortable with someone."
And the semi-retired professional wrestler admitted he's been hoping a cross over between 'Avengers' and 'Guardians of the Galaxy' for "years" because of the "great interactions" he thought Drax would have with Iron Man.
Speaking to 'Good Morning America', Dave said: "I've said for years and years and years that I hoped the crossover would happen, because I thought that Drax would have such great interactions with Tony Stark. And it's gonna happen, and it's good, it's really good. It's better than I thought it would ever be, I'm really excited about."
'Avengers: Infinity War' is due to hit screens on April 25 2018.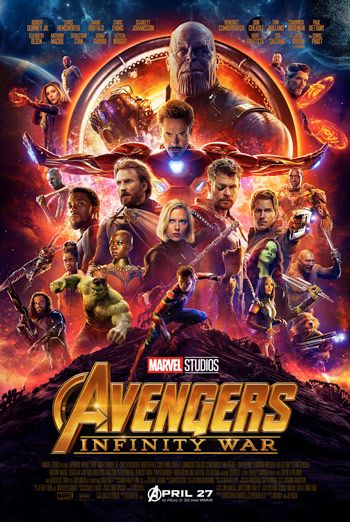 156 min | Action
An unprecedented cinematic journey ten years in the making and spanning the entire Marvel Cinematic Universe, Marvel Studios' "Avengers: Infinity War" brings to the screen the ultimate, deadliest showdown of all time. The Avengers and their Super Hero allies must be willing to sacrifice all in an attempt to defeat the powerful Thanos before his blitz of devastation and ruin puts an end to the universe. ...
get tickets
watch trailer