Daisy Ridley teases Carrie Fisher could survive in Star Wars: The Last Jedi
The 25-year-old actress portrays mysterious Force-wielding orphan Rey - who made her first outing in 2015's 'The Force Awakens' - and following the tragic death of Fisher last year, fans have speculated how her iconic character will be written out of the movie.
But now it appears that General Leia could actually survive until the end of the eighth movie - leaving it up to JJ Abrams to deal with her death in 'Star Wars: Episode IX'.
Speaking to Glamour magazine, Ridley said: "The last thing Carrie and I filmed together was emotional for a variety of reasons.
"It's the end of the film, and all of this crazy stuff has happened. There's a moment that we share, and thinking about it now, I realise that it's going to be really hard to watch.
"Because it will seem like a goodbye, even though it wasn't at the time. You know, she and I went through a similar thing at different times [as 'Star Wars' heroes]. She had the most insane life."
Filmmaker Rian Johnson - who has helmed the eighth movie - also recently revealed he didn't have to change the story following Fisher's death.
He said: "We didn't end up changing a thing. Luckily, we had a totally complete performance from her."
'The Last Jedi' also features 'Star Wars' legend Mark Hamill as Jedi Master Luke Skywalker - who was seen briefly in 'The Force Awakens'.
Other cast members include John Boyega (Finn), Adam Driver (Kylo Ren), Oscar Isaac (Poe Dameron), Lupita Nyong'o (Maz Kanata), Gwendoline Christie (Captain Phasma), Anthony Daniels (C-3PO), Andy Serkis (Snoke) and Domhnall Gleeson (General Lux) who are all reprising their roles.
'The Last Jedi' hits cinemas this December.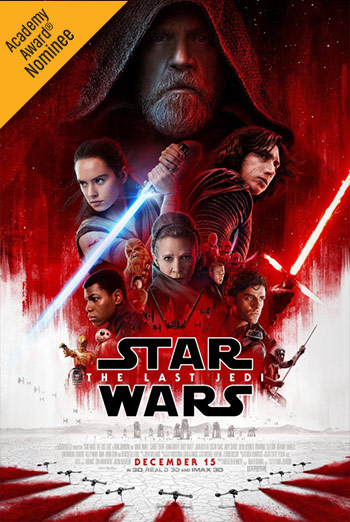 150 min | Adventure
Rey develops her newly discovered abilities with the guidance of Luke Skywalker, who is unsettled by the strength of her powers. Meanwhile, the Resistance prepares to do battle with the First Order. ...
get tickets
watch trailer