Benicio Del Toro is his own character in Star Wars: The Last Jedi
Benicio Del Toro's 'Star Wars: The Last Jedi' character is his "own person".
The 50-year-old actor was revealed to have joined the cast of the eighth movie in the franchise as the mysterious character DJ, and after fans suggested his character is Ezra Bridger from 'Star Wars Rebels', director Rian Johnson has insisted that isn't true.
Speaking to 'Good Morning America' at Disney's D23 Expo in Anaheim, California, over the weekend, Rian said: "He's his own person. DJ is his own person."
The filmmaker also said DJ's name stands for something major in the franchise and hinted it would be revealed in the upcoming movie.
At the convention on Sunday (07.16.17), Benicio also kept tight lipped about his character and didn't give anything away.
He said: "I saw the original 1977 one when I was 10, so when you [Johnson] called me up and mentioned the title alone, I was like 'let's go'."
The character was shown in the new footage in his dark trench coat with a distinctive hat, and in a leaked description, he is seen wearing all black with a Han Solo-style belt at his waist.
Benicio was joined on the panel by returning cast members Daisy Ridley, who plays Rey, John Boyega, who is Finn, and Gwendoline Christie, who plays the formidable Captain Phasma, and newcomers Kellie Marie Tran as Resistance mechanic Rose and Laura Dern as Vice Admiral Amilyn Holdo.
Johnson then introduced a final cast member - Mark Hamill, who plays Luke Skywalker, and the franchise veteran received a standing ovation.
He said: "There are so many unexpected elements, which is great with 'Star Wars' because it's getting harder and harder to do that. That's much more artful. I misspeak sometimes."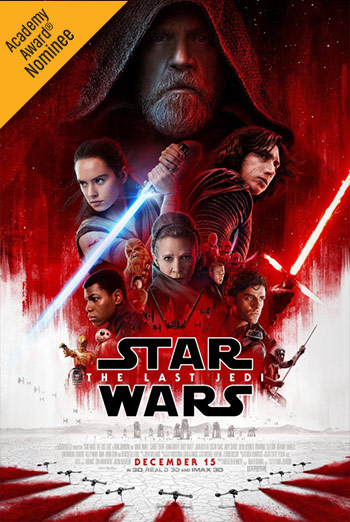 150 min | Adventure
Rey develops her newly discovered abilities with the guidance of Luke Skywalker, who is unsettled by the strength of her powers. Meanwhile, the Resistance prepares to do battle with the First Order. ...
get tickets
watch trailer