Andy Serkis in attempted blackmail plot over lost Jungle Book notes
Andy Serkis became the victim of an attempted blackmail plot over a lost notebook containing the secrets of his directorial debut 'The Jungle Book'.
The 53-year-old director accidentally left a wedge a notes containing "very important information" regarding the movie on a seat at the airport in South Africa a few years ago and has hinted that the person who took it was demanding cash for it back.
Speaking to BANG Showbiz, he said: "I've never lost a script for 'Star Wars', I did lose a notebook when I was directing 'Jungle Book' with lots of very important information in it. I actually left it on a seat in between flights in South Africa, that was pretty bad .. Someone has got it and I know that they've got, they've been in contact. The police were never involved, the production company sorted it out. There was no punishment, so I still don't know what the punishment could be for this."
Although his mistake led to the notes falling into the wrong pair of hands, Serkis has admitted the person who has the pad couldn't do anything with it because everything was given a different company name so that nothing could be pinned on the film.
He explained: "All the scripts for 'Star Wars' and the other films I work on are all watermarked and the security is incredibly tight and they're given production company names so you can't trace them back to whatever film it is."
Meanwhile, Serkis' new movie 'War for the Planet of the Apes', in which he portrays highly-intelligent ape Caesar, is out now in cinemas.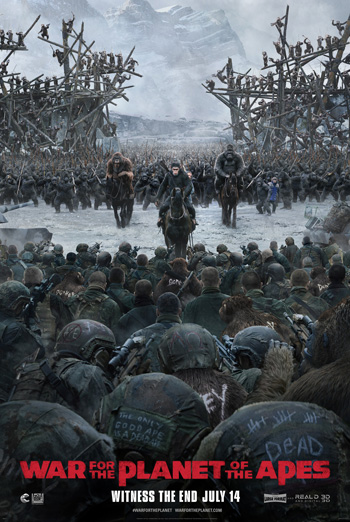 140 min | Action
In 'War For The Planet Of The Apes', the third chapter of the critically acclaimed blockbuster franchise, Caesar and his apes are forced into a deadly conflict with an army of humans led by a ruthless Colonel. ...
get tickets
watch trailer