Alien: Covenant director Ridley Scott loves to scare people
Sir Ridley Scott says his favorite thing as a filmmaker is getting to scare his audience.
The legendary Hollywood director has made a number of iconic movies, including 'The Martian', 'Gladiator', 'American Gangster' and 'Blade Runner', but he has returned to the 'Alien' franchise which began with his sci-fi horror classic in 1979 for his latest release 'Alien: Covenant'.
Although he enjoys working on all types of genres, Scott loves nothing more than to frighten film fans.
Speaking at the world premiere of his new movie in London on Thursday night (05.04.17), he said: "I like making people laugh but scaring people, when it really works, is fun. People here will get a very stressful evening and sleepless night."
The new movie follows the crew of colony ship Covenant who land on a remote planet in a distant galaxy.
Soon discovering the planet isn't the paradise they believed it to be but a dangerous world inhabited by the deadly Xenomorph creatures they must make every effort they can to escape.
Michael Fassbender appears as two characters, reprising his role as prototype android David in the sci-fi thriller and also playing new Weyland-Yutani Corporation synthetic Walter who assists the crew aboard Covenant.
The crew is comprised of Katherine Waterston as Daniels, Billy Crudup as Christopher Oram, Danny McBride as Tennessee, Demián Bichir as Sergeant and Carmen Ejogo as Karine Oram among others.
When casting his female lead, Scott, 79, insists he knew Waterson, 37, was perfect from the start.
Scott - who walked the red carpet with his wife Giannina Facio - said: "She's very tall, very smart, very beautiful and a great actress. What else could you want?"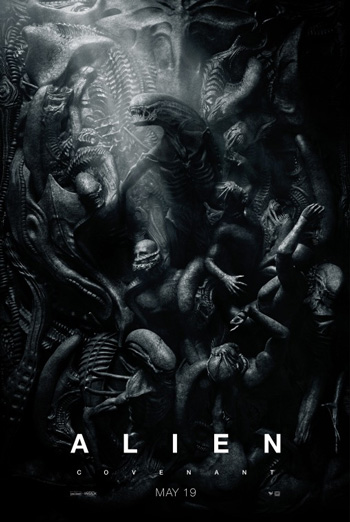 122 min | Science Fiction
Bound for a remote planet on the far side of the galaxy, the crew of the colony ship Covenant discovers what they think is a paradise, but is actually a dangerous world whose sole inhabitant is the synthetic David, survivor of the Prometheus expedition. ...
get tickets
watch trailer