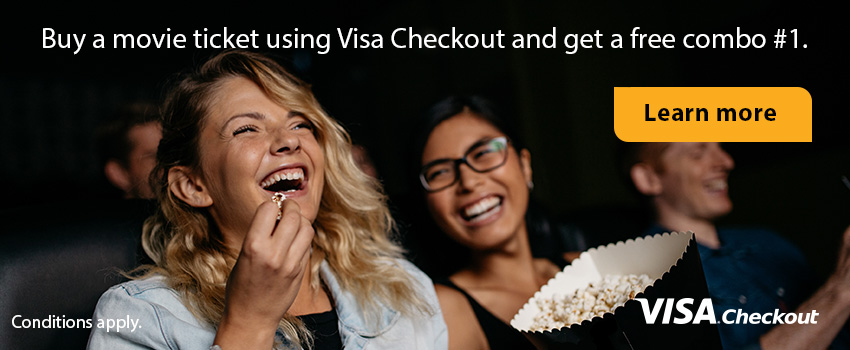 Visa Checkout Offer
Buy a movie ticket using Visa Checkout* at landmarkcinemas.com and get a free Combo #1. Limits apply.
From November 17 to December 14, 2017, purchase your movie tickets at landmarkcinemas.com
and checkout utilizing the pay with Visa Checkout button and receive a Free Combo #1 Voucher.
Voucher valid November 17 to December 28, 2017 .
Terms and Conditions
From November 17 to December 14, 2017 or until 8,500 coupons have been distributed (whichever is earlier), purchase your movie ticket(s) online using Visa Checkout and receive a coupon for a free Combo #1, including a small popcorn, medium fountain drink and a small candy. Coupons are redeemable at all Landmark Cinemas locations until December 28, 2017. One coupon issued per online transaction. Coupon will appear on the email ticket confirmation page and must be presented (in its original form) prior to ordering. Limit of one coupon per transaction. Cannot be used for online or Automated Box Office (ABO) or ATOM app purchases. Coupon cannot be combined with any other offer and is not redeemable for cash. No substitutions will be available. Lost or stolen coupons will not be replaced. Additional charges apply for real butter, upsizes and other add-ons. One coupon per person, per visit, may be redeemed.
*Visa Int., used under license.
Check out these great movies!