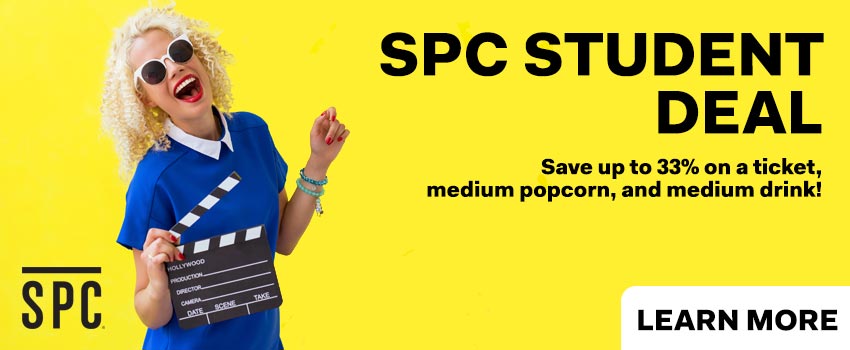 Student Price Card - SPC
Students Show Your SPC Card and Save.
Calling all students! Got an SPC Card? Show it and your Student ID* at your local Landmark Cinemas and receive a General Admission, Medium Popcorn, and Medium Fountain Beverage, all for $16.99 + tax, EVERY DAY.
ABOUT SPC
Student Price Card (SPC) is a loyalty card that provides students with exclusive offers at their favourite stores and restaurants across Canada. With over 100 offers, there's something for everyone!
Get your SPC Card online or in-store and start saving TODAY! 
TERMS AND CONDITIONS: Offer valid August 1, 2017 to July 31, 2018 in-theatre at the Box Office or Concession only. Offer not available online at landmarkcinemas.com, through the ATOM App, or through the Automated Box Office (ABO). Cannot be combined with any other Landmark Cinemas discount offer. One (1) Landmark Cinemas SPC Offer per person, per visit, per transaction. Surcharges apply for RealD 3D, EXTRA, XTREME, and IMAX® presentations. Butter, up-sizes, and add-ons at additional cost to guest. Offer open to students of all ages with an SPC Card. SPC Card available through Student Price Card and select SPC partners. SPC Card not available for purchase through Landmark Cinemas. SPC Card can only be used in-theatre by cardholder. Not transferable to any other person, including a parent or guardian. Students 16+ will need to show Student Photo ID along with their SPC Card to receive the offer. If you don't have a valid Student ID, your discount may be refused. Exceptions to Student ID include VIP SPC Card holders, BMO SPC MasterCard holders, and students under the age of 16. For additional information, please visit our FAQ section​
Applicable Locations