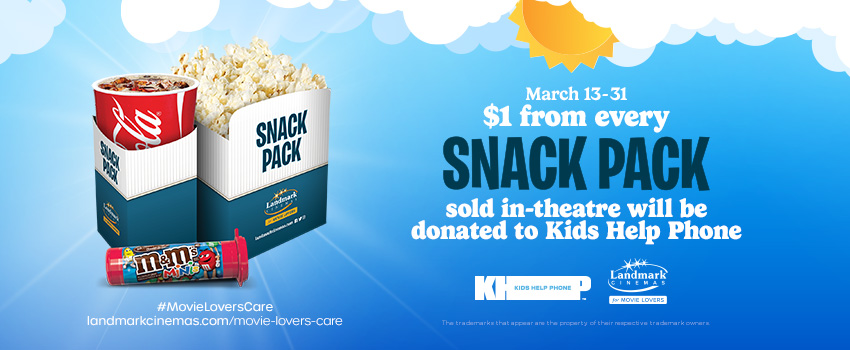 Give young people's feelings a place to go. Together, we can unlock the hope young people need to thrive in their world.
From March 13 - 31, Landmark Cinemas is donating $1 from every Snack Pack sold in-theatre to Kids Help Phone. Join us by making a Snack Pack purchase in-theatre or by making a personal donation today at KidsHelpPhone.ca.
About Kids Help Phone
Approximately 76% of people shared feelings or experiences with Kids Help Phone they've never shared with anyone else.
Young people can truly thrive when they're able to express how they're feeling — and get the support they need without judgment. 
Kids Help Phone is Canada's only free, 24/7, confidential e-mental health service offering support in English and French to young people through phone, text, and online resources. 

Youth can turn to Kids Help Phone to feel out loud, at any time, and in whatever ways feel best for them. 

On average, Kids Help Phone supports young people more than 10,000 times every day. Our free, confidential, e-mental health service is always open, offering youth across Canada a non-judgmental space to feel out loud and get support in English and French through phone, text and online resources.
Kids Help Phone has an ambition to transform access to more equitable resources through the power of technology, data and innovation. With our Canada-wide community of supporters, we're talking about radical landscape change to Canada's mental health ecosystem.
"I just wanted to say thank you so much for helping me tonight. It might seem like such a little thing but it meant so much to me and made me feel a lot less alone and awkward." — person contacting Kids Help Phone

To discover Kids Help Phone's impact in action, access mental health support, join their mental health movement and more, you can visit KidsHelpPhone.ca
Applicable Locations