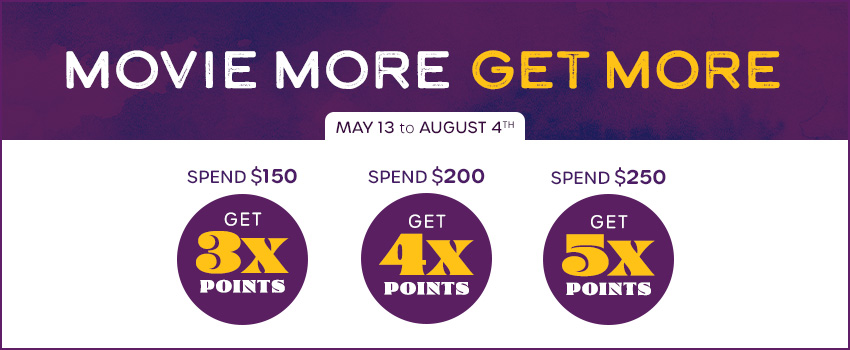 EXTRAS Movie More Get More
Summer movies are back at Landmark Cinemas and we're celebrating with additional Landmark EXTRAS Bonus Points!*
The more you movie from May 13th to August 4th, 2022, the more Bonus Points you'll receive on top of the points you already get as a registered Landmark EXTRAS member. It's easy:
Spend $150 this summer: Get 3X the points (1,500 Bonus Points)
Spend $200 this summer: Get 4X the points (3,000 Bonus Points)
Spend $250 this summer: Get 5X the points (5,000 Bonus Points)
Your EXTRAS Bonus Points will be added to your account the week of August 8th, 2022.
What you do with those points is up to you. Get FREE movie tickets. Or hot dogs. Or popcorn. So, if you're hungry for more EXTRAS points, movie more. Check out what's playing at your favourite Landmark theatre and movie your way to 3X, 4X or 5X the EXTRAS Points by doing what you love: going to the movies.
NOT A MEMBER?
It's easy—and FREE—to join. 
There are 3 rewarding programs to choose from that get you something EXTRA with every movie purchase you make.
FORGOT TO REGISTER YOUR CARD?
You can only redeem the points you've earned if you register your card.
*Bonus points are calculated based on the transaction date spends, not showtime dates. Movie More Get More promotion dates are May 13 - August 4, 2022. Points will be deposited into registered Members accounts during the week of August 8th, 2022 based on total promotional period spend.
Applicable Locations