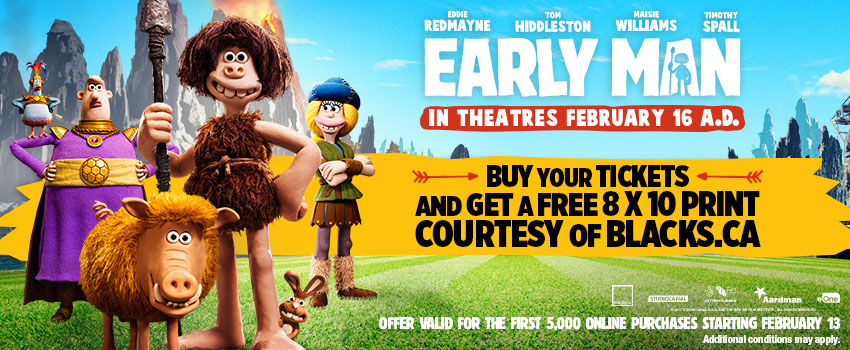 Early Man Offer
GET A FREE PHOTO PRINT FROM BLACKS.CA!
From February 13 – March 31, 2018, purchase your tickets to EARLY MAN at landmarkcinemas.com and get a FREE Photo Print courtesy of Blacks.ca!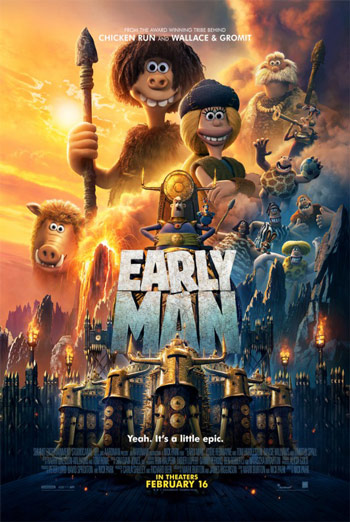 89 min | Animated
Set at the dawn of time, when prehistoric creatures and woolly mammoths roamed the earth, Early Man tells the story of Dug, along with sidekick Hognob as they unite his tribe against a mighty enemy Lord Nooth and his Bronze Age City to save their home....
get tickets
watch trailer
TERMS AND CONDITIONS:
ONLINE LIMITED TIME ONLY OFFER. Offer valid February 13 – March 31, 2018 at Landmarkcinemas.com for qualifying purchases or until 5,000 offers are distributed. Offer is redeemable at Blacks.ca from February 13 - March 31, 2018, applicable to GLOSSY or MATTE Paper Surface only, 8x8, 8x10 or 8x12. NOT valid in-theatre at the box office, concessions, or automated box office (ABO), or on the ATOM App. NOT Valid in conjunction with any other discount offer. Additional conditions may apply.
For customer service, please email [email protected] or call 1 800 668 3826.
Applicable Locations