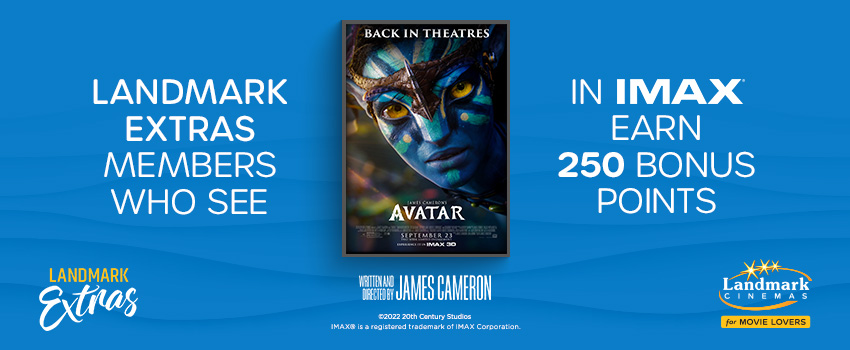 Registered Landmark EXTRAS Members Get 250 Bonus Points when they see Avatar in IMAX®
NOT A MEMBER?
It's easy—and FREE—to join. 
There are 3 rewarding programs to choose from that get you something EXTRA with every movie purchase you make.
JOIN NOW
FORGOT TO REGISTER YOUR CARD?
You can only redeem the points you've earned if you register your card.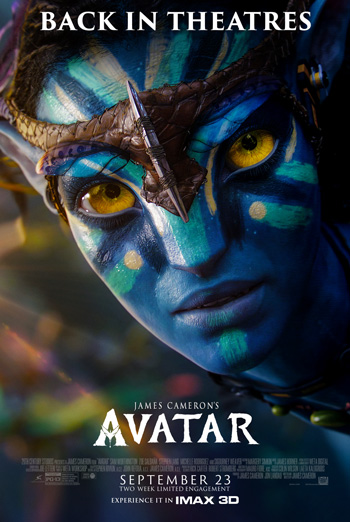 165 min | Action
James Cameron's Avatar is back in theatres for a two week limited engagement!
From Academy Award® winning director James Cameron comes Avatar, the story of an ex-Marine who finds himself thrust into hostilities on an alien planet filled with exotic life forms. As an Avatar, a human mind in an alien body, he finds himself torn between two worlds, in a desperate fight for his own survival and that of the indigenous people.
get tickets
watch trailer

*Bonus points are rewarded on a per-transaction basis. Offer valid at applicable Landmark Cinemas locations.
IMAX® is a registered trademark of IMAX Corporation.


Applicable Locations