KING ARTHUR: LEGEND OF THE SWORD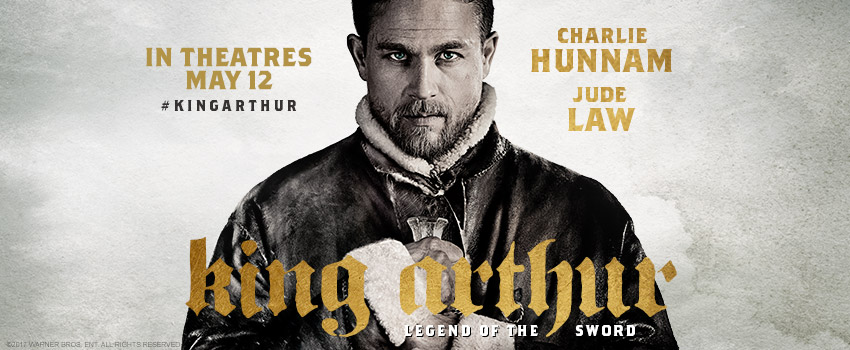 King for a Day!
You are invited to a special advance screening of
KING ARTHUR: LEGEND OF THE SWORD
Acclaimed filmmaker Guy Ritchie (Sherlock Holmes, The Man From U.N.C.L.E.) brings his dynamic style to the epic fantasy action adventure "King Arthur: Legend of the Sword". Starring Charlie Hunnam (Pacific Rim, Sons of Anarchy) in the title role, the film is an iconoclastic take on the classic Excalibur myth, tracing Arthur's journey from the streets to the throne.
When the child Arthur's father is murdered, Vortigerm (Jude Law), Arthur's Uncle, seizes the crown. Robbed of his birthright and with no idea who he truly is, Arthur comes up the hard way in the back alleys of the city. But once he pulls the sword from the stone, his life is turned upside down and he is forced to acknowledge his true legacy ... whether he likes it or not.
Landmark Cinemas and Warner Bros. Pictures Canada would like to give you a chance to see KING ARTHUR: LEGEND OF THE SWORD before anyone else!
Claim your passes by selecting a location below
Just click the links below to R.S.V.P. to the screening in your market. Limited tickets available per location. 2 tickets per person. First come, first served basis.
Landmark Cinemas 12 Guildford
Guildford Town Centre
15051 101 Ave
SURREY, British Columbia V3R 7Z1
Landmark Cinemas Grand 10 Kelowna
Unit 110, 948 McCurdy Rd
Kelowna, British Columbia V1X 2P7
Landmark Cinemas 16 Country Hills
300-388 Country Hills Blvd. N.
Calgary, Alberta T3K 5A6
Landmark Cinemas 9 City Centre
10200 102 Ave NW
Edmonton, Alberta T5J 4B7
Landmark Cinemas 8 Grant Park
1120 Grant Ave
Winnipeg, MB R3M 2A6
Landmark Cinemas 4 University Heights Victoria
University Heights Shopping Centre
3980 Shelbourne St
Victoria, British Columbia V8N 6J1