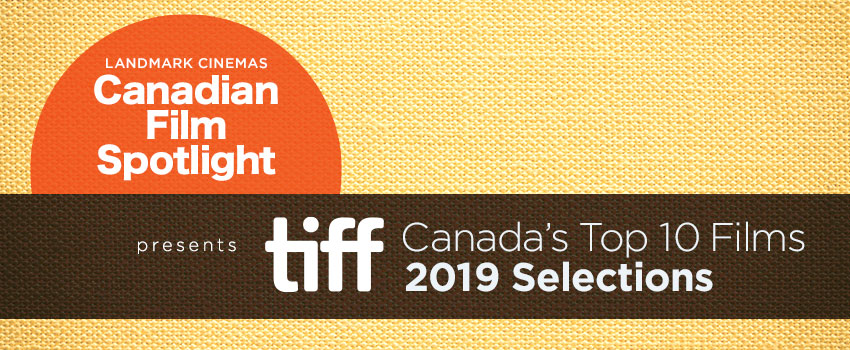 With Landmark Cinemas' ongoing commitment to help showcase Canadian Film, we are pleased to present TIFF's Selections of the Top 10 Canadian Films for 2019.
Each Monday, from February 17 - April 27, 2020, Landmark Cinemas will be playing one of 2019's top ten films.
Tickets to each film are just $9.99 (taxes included). To purchase tickets and reserve your seat for free, check listings at participating theatres listed below.
TIFF's Top 10 Canadian Films of 2019
PLEASE NOTE: Tickets are typically available 1 week prior to release. Not all films are available at all locations. Film titles, show times and location availability are subject to change. Check your local cinema for showtimes and tickets.
PARTICIPATING LOCATIONS
British Columbia
Grand 10 Kelowna, Nanaimo, New Westminster, Penticton
Alberta
Country Hills, Edmonton City Centre
Ontario
Kanata, Orleans, Waterloo, Whitby
ABOUT TIFF
The Toronto International Film Festival is one of the largest publicly attended film festivals in the world, attracting over 480,000 people annually. Since its founding in 1976, TIFF has grown to become a permanent destination for film culture operating out of the TIFF Bell Lightbox, located in downtown Toronto.